> Home > Where to stay > Hotels
MORE DI CUNA
Monteroni d'Arbia
HOTELS 3 STARS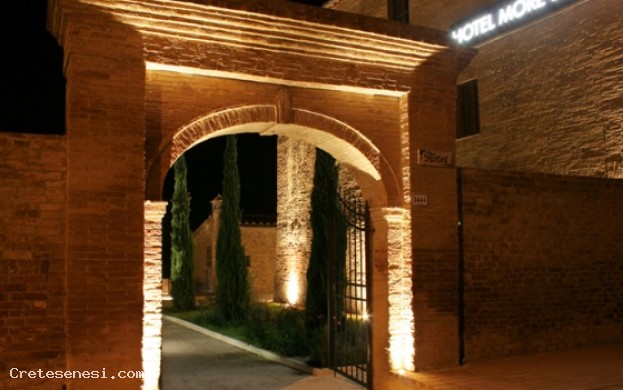 * Required field
DO YOU WANT MORE INFORMATION?
Call our Call Center at

Tel. 0577 385166 - Fax 0577 385166

We will be happy to help you better organize your stay!
SERVICES
GIOCHI PER BAMBINI
MANEGGIO
TREKKING
ARIA CONDIZIONATA
TV SATELLITARE
BABY SITTING
RISCALDAMENTO INVERNALE
STRUCTURE DESCRIPTION

History, nature, eno-gastronomic tradition, in short the Tuscan wonders, summarized in an ancient place, which is reproduced today in a new guise. The farmhouse "La Strada", which from the end of the XII century was part of the big farm which belonged to the Hospital " Santa Maria della Scala", has become a nice three star hotel, whose rooms are equipped to assure our guests the highest comfort, with due respect to the disabled people. The cosy and familiar atmosphere and the qualified staff will win over you and guide you throughout your holiday to discover the secrets of the Tuscan country. The Hotel "More di Cuna" has more than a privileged position. Situated along the Cassia, you will be able to reach in few minutes Siena, the Crete, Montalcino, Montepulciano and the most fascinating abbeys of the territory. The Cassia can be travelled over easily by bike or any kind of vehicle. Situated along the via Francigena, it is an obligatory stage for those who would like to travel again over the pilgrim-walk from Canterbury to Rome. Then, you could also have your lunch and dinner in the near restaurant " Il Contadino", to taste the flavours of the ancient Tuscan cooking.
WHAT TO VISIT

NEARBY
DINING & ENTERTAINMENT

NEARBY