> Home > What to visit > Palaces and Monuments
Ponte del Garbo
Asciano
PALACES AND MONUMENTS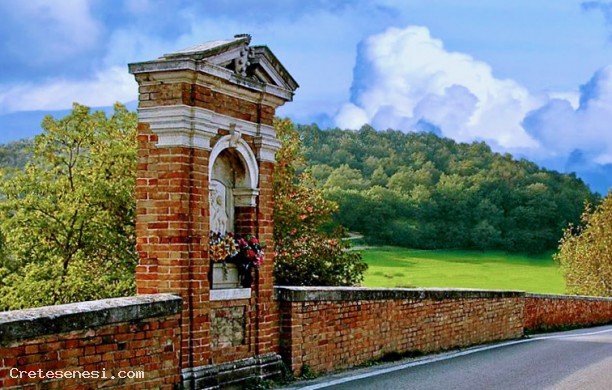 The bridge over the Ombrone river connects Asciano with part of its territory along the ancient Lauretana road that ran from Siena to Santa Casa in Loreto. The importance of this bridge is demonstrated by the numerous times it was destroyed and subsequently rebuilt.
It was destroyed for the last time in June 1944 by the retreating German army. The bridge's name comes from an event commemorated by its first construction in brick: the people of Asciano earned the designation "garbati" or "obliging" for having made their way across the flooded river to go help Siena win the historic battle of Montaperti (1260).
When this bridge was being constructed, people took into account that the previous wooden bridges had often been destroyed by the river's frequent floods. In fact, on both sides of the river there are two very broad and strong foundations on which was placed the lone great arch with a diameter of some 17 meters, but lighter and narrower, with a shrine to the Holy Virgin.
According to reliable historical documents, before the bridge of brick and stone was built, there was a wooden bridge in the same place. These documents consist of 12th-century deliberations of the governing body of Siena with regard to repairs for the flood-damaged bridge over the Ombrone.
However, just upstream from the existing bridge, at Torrentino, there are still remains of a ford, paved and protected by an guard-tower, which leads one to think that that here the path of the Via Lauretana was slightly different from its current path.
Historical analysis file, drawn up in 1950 after its reconstruction
STAY

NEARBY
DINING & ENTERTAINMENT

NEARBY