> Home > What to visit > Palaces and Monuments
Porta Nuova e Piazza Matteotti
Rapolano Terme
PALACES AND MONUMENTS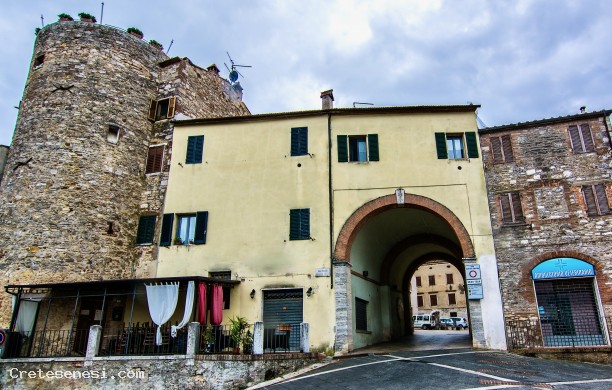 PHONE NUMBERS AND TIMES

Porta Nuova e Piazza Matteotti


Business card (vCard)
The development of Rapolano in the second half of the 19th century is due to the construction of the Strada Ferrata Centrale Toscana, inaugurated in 1859. From that moment, the growing notoriety of the local thermal waters attracted bathers from all parts of Tuscany.

Due to this growing demand, three more were added to the only existing thermal establishment: Bagni San Giovanni, built in record time. Even the two medieval gates which, until then, had allowed access to the town: Porta dei Tintori and Porta Sant'Antonio, were considered inadequate for the growing presence of guests linked to the thermal activity.

Thus, in 1884, a Promoting Committee of 130 people from Rapola made a request for the construction of a new Gate, because "remarkable personalities competing for these thermal waters" were "forced to pass through a stable, in order to be transported to the baths". The request was motivated by the need to offer "a more pleasant stay for bathers: the main resource of the Municipality"

Although the Mayor of the time had expressed the impossibility, for the public coffers, of supporting the expenses necessary for the demolition of two blocks of flats and the construction of the new gate, the importance of the work for the future development was nevertheless reaffirmed in the City Council of the country. Thanks to a subsequent popular subscription, 4,561 lire (corresponding to over €20,000 today) were raised to support the project.

Thus, with the resolution of the City Council of 24 March 1886, chaired by Mayor Girolamo Gori Martini, it was decided to make agreements with the owners of the buildings to be demolished. Subsequently, on 7 May 1886, the Town Council approved its forced expropriation for reasons of public utility.

Furthermore, on 6 August 1886, the Committee promoting the works, chaired by Gaspero Faggi, allegedly proceeded to cover, in addition to the 3,000 Lire allocated by the Municipality and the popular subscription, any sum necessary for the completion of the works.

After only 9 months of work, which began in the last months of the year, the following were inaugurated in 1887:
a new stretch of road, the current Viale Mazzini
the new door,
the Piazza della Misericordia, now named after Giacomo Matteotti.
This significant urban intervention made possible, in addition to the passage of bathers hosted in the historic center, to and from the spas, also the easy transport of all types of goods within the town.
Ulteriori informazioni su questo testo di origine
STAY

NEARBY
DINING & ENTERTAINMENT

NEARBY