> Home > What to visit > Castles
San Gimignanello
Rapolano Terme
CASTLES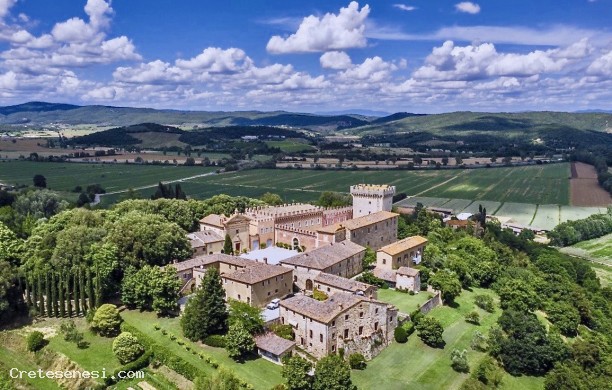 SAN GIMIGNANELLO ALLE SERRE is located between the Val di Chiana and the nearby Valle dell'Ombrone, to the current highway that leads from Bettolle to Siena, at the junction for Asciano.
Important first building and then Villa Sansedoni, with an adjoining farmhouse and parish church of the SS. Fabiano and Sebastiano.
The castle of S. Gimignanello was originally one of the fiefdoms of the Counts of Scialenga, lords of Asciano and of which there are documentary traces already in 1022.
Bought by the Sienese in 1212, San Gimignanello was destined to a frontier fortress and in 1272 a trustee was sent, to the direct orders of the power of Siena.
It is known that the church of S. Gimignanello was rebuilt by the noble Sienese family of Sansedoni. In fact the Sansedonis took over many possessions of the Counts of Berardenga and Scialenga, following their submission by the Sienese.
Currently, while maintaining its castle structure intact, a private property has been converted into a farm.
To access the map of the defensive sighting network, of which San Gimignanello Castle was an important node and a border outpost, click here.
STAY

NEARBY
DINING & ENTERTAINMENT

NEARBY