> Home > >
Sant'Agostino con San Donato e San Giovanni Gualberto
Asciano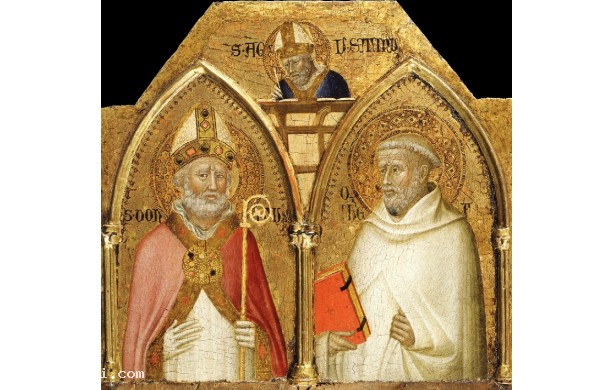 Artist: Pietro Lorenzetti
Current location: Gallico

DESCRIPTIVE INFORMATION

The depiction of Saint Augustine, indicated with the Gothic writing S. AGUSTINUS, is found in the cusp of a polyptych preserved in the Salini Collection at the Castello Gallico in Asciano. Previously the work was reported at the Briganti Collection in Rome.
The painting measures 33 cm in height and 36.5 in width with the table technique. In the two gothic niches below we find the saints Donato and Giovanni Gualberto.
Agostino is depicted half-length with a miter on his head and a nimbus that wraps his head. He wears a dark robe that seems to recall the black habit of Augustinian hermitans.
The depicted saint Donato could be Donato di Fiesole also called Donato of Scotland or Ireland who lived in the IX century. In 816 he left Ireland and, in his pilgrimage, he arrived in Rome. On the return journey, he stopped in Tuscany, in Fiesole, a city that had suffered a Norman raid and looting. The deplorable state of the population led him to stay in the city. According to tradition he was elected bishop in the year 829 in the cathedral of Fiesole, between the acclamation of the people of the faithful. He held this office for almost forty-seven years until the 875th anniversary. Under his episcopate Fiesole recovered from the damage suffered during the Norman invasion.
San Donato could also be, still in Tuscany, San Donato d'Arezzo, the second bishop of Arezzo. News of his life can be found in the Geronimian Martyrology of the fifth century, in a Passio Donati of the sixth century, and in various other Passiones and hagiographies of medieval origin. He was probably born in Arezzo but, according to other sources, he was originally from Nicomedia or Rome. His work of evangelization was very fruitful. Consecrated bishop by the pope, he succeeded Satyr in the leadership of the Church of Arezzo and continued his pastoral work, assisted by the deacon Antimo.
San Giovanni Gualberto Visdomini (995 - 1073) was the founder of the Vallombrosana Congregation. Son of Gualberto, he was probably born in Florence or perhaps in the castle of Poggio Petroio, in Val di Pesa, by the noble Visdomini family.
Sant'Agostino con San Donato e San Giovanni Gualberto