> Home > What to visit > Churches and Monasteries
Santi Giacomo e Cristoforo
Monteroni d'Arbia
CHURCHES AND MONASTERIES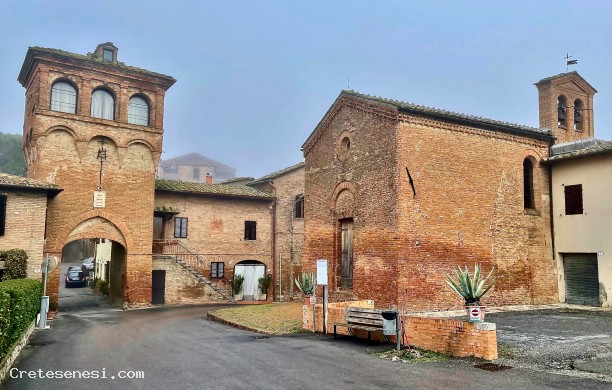 PHONE NUMBERS AND TIMES

Santi Giacomo e Cristoforo
Piazza Don Zeno 53014 Monteroni d'Arbia

Telephone 0577 375152


Business card (vCard)
The church of Santi Giacomo e Cristoforo is a sacred building located in the locality of Cuna.
The church is located near the entrance to the fortified Grancia of Cuna, a historic property from the hospital of Santa Maria della Scala in Siena.
The naming of the church after San Giacomo would seem to confirm the presence of a small Hospitale, annexed to the church. The current structure of the sacred building was completely rebuilt in 1314.
The building, entirely in terracotta, has a single nave without a terminal scarsella; externally it is crowned by a frame resting on small shelves.
The hall takes light from the eye of the façade and from two windows of Gothic proportions, even if still with a round arch in Romanesque style.
The interior preserves some remains of fourteenth-century frescoes, including:
a Madonna and Child with saints,
a Presentation in the Temple e
an Adoration of the Magi.
STAY

NEARBY
DINING & ENTERTAINMENT

NEARBY