> Home > What to visit > Churches and Monasteries
SS. Jacopo e Cristoforo
Asciano
CHURCHES AND MONASTERIES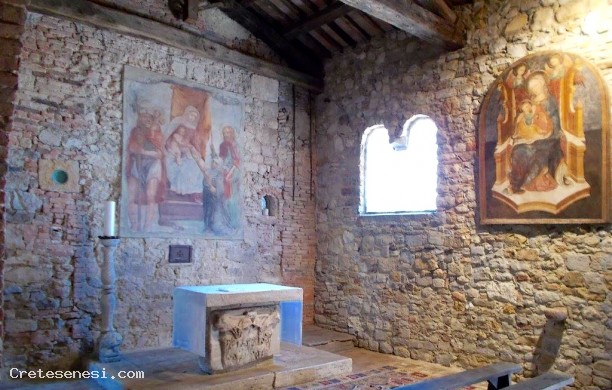 PHONE NUMBERS AND TIMES

SS. Jacopo e Cristoforo
53041 ASCIANO, località Montecalvoli



Business card (vCard)
ORARI DI APERTURA E VISITA:
Privately owned internal structure, can only be visited on request to the owner.

The Montecalvoli church is presumably as old as the village where it is still located. The first mention of it dates back to 1257 as dependent on Pieve di Trequanda. Is subsequently mentioned in several other documents, the beginning of the century. XIV as "oratory seu ecclesia sancti Cristofori located in castro". Cite reports of visits from 1468 and 1596 of religious clerics.
Currently the church is very well restored. The wall facing is made from sandstone blocks, squared and variously and arranged on parallel horizontal rows of different heights. On the top, just below the slope, are visible several shelves carved with decorative motifs and figures of animali.La original facade in practice no longer exists because it was built on a part of the building to the west, perhaps, at the time of construction of the rectory, which leans to the eastern part of the church, whose construction site is attested in this visit of 1596.
The church, as mentioned, has been restored along with the entire village and today it is privately owned.
Above the main altar is a fresco representing "The Mystic Marriage of St. Catherine", flanked by the Virgin Mary and the two saints pilgrims Christopher James. The inscription "Archangel Sen pingebat" makes this work due to the end of the sixteenth century to Arcangelo Salimbeni.
Currently, on the right wall, part of which once existed a side altar, it is placed a beautiful picture, that you do not know the source and the author, depicting the Madonna and Child Enthroned crowned by angels.
references:
"Ecclesiae-religious structures of the territory of Asciano", curated by Francesco Brogi, published in July 2016 by the municipality of Asciano, pp.147-148.
STAY

NEARBY
DINING & ENTERTAINMENT

NEARBY