> Home > What to visit > Palaces and Monuments
T01 - Torre della Peschiera
Asciano
PALACES AND MONUMENTS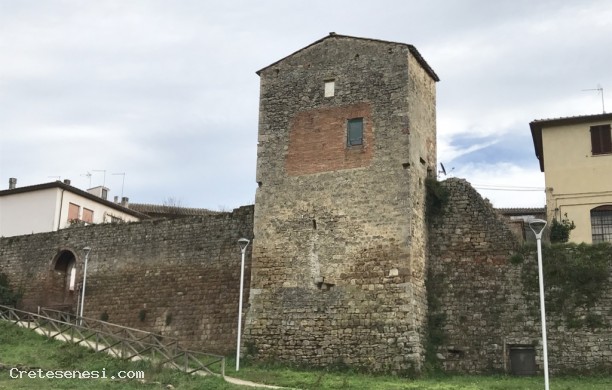 PHONE NUMBERS AND TIMES

T01 - Torre della Peschiera


Business card (vCard)
Synthetic Chronology
1287 likely construction at the same time as the second city wall
1342 - 1352 probable restoration or reconstruction since the third circle of walls (which here coincides with the second and perhaps the first one) was elevated in these years
1555 the tower is severed by order of Cosimo I

Dimensional data
average external height: 14.0 m.
average internal height: 10.0 m.
masonry thickness: n.r.
section length: 12.0 m.

Architectural Description
However, it is not possible to exclude an original construction even before 1287, since this stretch of the walls has remained unchanged in the various rebuilding of the city walls.
The tower has a rectangular plan, it has main access from the inside (Via della Peschiera) through two architrave doors obtained in the infill of a large arch.
On the side façades we can see two doors at the level of the walkway on the flanking walls: a buffered wall (flanked by a loophole), which faces south where the stretch of wall has been reduced in its height; the other gives access to the walkway on the walls towards the Porta del Bianchi. The roof, the result of a reconstruction, is a hut with wooden framework and roof covering in tiles and roof tiles. It is made of stone filaretto, complete with cantonal, unfortunately modified with marked brick inserts. There is evidence of traces of plaster.

Current state
private property, with residential use even if not inhabited.
Click here to access the Walls navigator, which allows you to consult detailed information.

STAY

NEARBY
DINING & ENTERTAINMENT

NEARBY