> Home > What to visit > Churches and Monasteries
Sant'Agostino
Asciano
CHURCHES AND MONASTERIES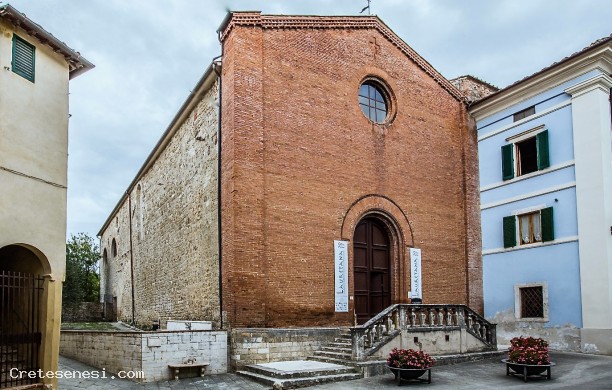 PHONE NUMBERS AND TIMES

Sant'Agostino
Corso Matteotti 53041 ASCIANO



Business card (vCard)
The church, located in the oldest part of the town, is a sanctuary attached to the convent of the same name. Erected in the 13th century, it was enlarged in the 14th century at the time of its attachment to the Augustinian Convent. The church was again rebuilt in the second half of the 15th century with the addition of a brick façade. The interior still retains the baroque decoration added at the end of the 16th century. From this church come many of the works of art preserved in the Corboli Museum.
The richness of the works from this church and the recent rediscovery of frescoes attributed to Domenico Veneziano unequivocally signify its importance for local worship, perhaps also due to the presence on the altar of the triptych dedicated to Madonna delle Grazie, Mateo di Giovanni and dating back to 1460.

Found on the path of Lauretana Antica, this place was surely to be counted among the Marian Shrines in which to gather in prayer during the pilgrimage to the Holy House of Loreto.

Since it is perhaps the only place of worship placed within the first wall of the village, it is easy to think that the church was built in the place of a previous religious building. The thing is certain, however, that in the centuries following its construction, he enjoyed legacies and substantial donations from important local and Siena families with commercial interests on the ground.

Significant the contribution of the Scotti family, to which in the fifteenth century the extension of the church and the construction of the new brick facade, Romanesque style, aesthetically enriched by a double staircase with travertine loggings. Of that intervention of 1472, there remains memory in the incision of the date on a brick to the left of the door. The Scotti were for centuries among the most notable families in Asciano, as evidenced by the inscription on the marble plaque at the base of the nearby Civic Tower.

The church was preserved until 1808 by the Augustinian Fathers, to whom the adjacent convent was to be built. Following the Napoleonic suppression, the church and convent became private. As the convent was transformed into heavily restored dwellings, the church returned to religious worship, after various events and a long restoration, funded and managed by the local Brotherhood of Mercy.

STAY

NEARBY
DINING & ENTERTAINMENT

NEARBY