> Home > What to visit > Churches and Monasteries
Cappella di Piazza
Rapolano Terme
CHURCHES AND MONASTERIES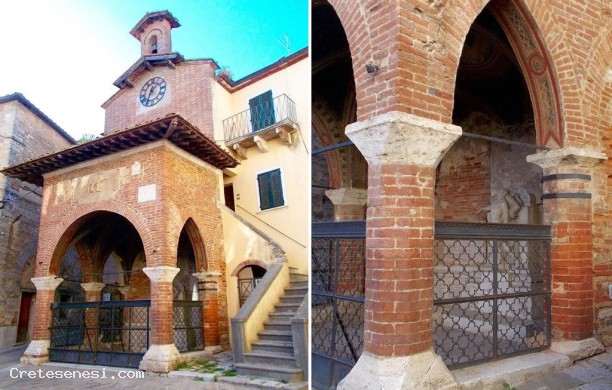 PHONE NUMBERS AND TIMES

Cappella di Piazza
Serre di Rapolano



Business card (vCard)
Chapel Square is a sacred building in the main square of the little old town. It is a small lodge on the south side of what was once the Town Hall and recalls, in his position, the chapel of Piazza del Campo in Siena. There was located the company of St. Elizabeth, then combined with that of St. Catherine of Mercy in the early seventeenth century.

In 1922 they were carried out restoration work; at that time they emerged the fragmentary frescoes fifteenth, again restored in the eighties of the twentieth century. In the large central lunette we find the Madonna and Child with Saints Fabian and Sebastian, Bernardino and Macario, protectors of Serre.

To the right is visible another fresco depicting the Madonna and Child, attributed to Andrea Nicol˛. Finally, on the starry sky in the middle he is painted God the Father blessing.

In recent years the chapel has become a shrine to all serrigiani fallen in the wars of the twentieth century, as evidenced by sculptures and memorial stones travertine.
STAY

NEARBY
DINING & ENTERTAINMENT

NEARBY