> Home > What to visit > Place
Cave di Travertino di Serre
Rapolano Terme
GARDENS AND LANDSCAPES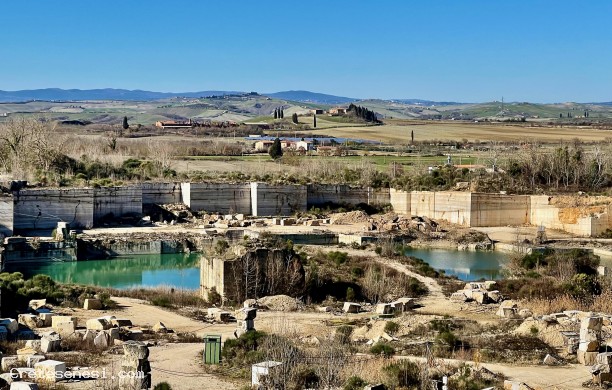 PHONE NUMBERS AND TIMES

Cave di Travertino di Serre


Business card (vCard)
The hills of the territory south-east of Rapolano are made up of tertiary rocks covered with travertine and gravel banks held together by a siliceous calcareous gluten.
It was precisely the abundance of travertine that in the past centuries made the fortune of Serre, where the owners of the land involved in the extraction activity resided. This made the locality a rather rich and attractive reality.
Although the mining and processing of travertine is testified since the sixteenth century, on the basis of a document dated to 1597, due to local needs, it even dates back to the Etruscan period. This is demonstrated by the nearby Tumolo del Mulinello, whose base was made of well-modeled travertine ashlars.
The period of maximum activity, however, was that of the second post-war period, linked to the reconstruction and building expansion of large cities. Today, residual activities remain, strongly conditioned by the continuous fluctuations of the building market.
STAY

NEARBY
DINING & ENTERTAINMENT

NEARBY