> Home > What to visit > Gardens and Landscapes
Strada delle CAVE
Rapolano Terme
GARDENS AND LANDSCAPES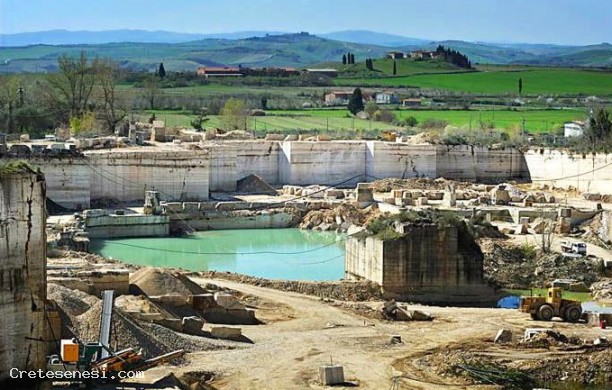 The abundance of travertine, together with the renowned hydrothermal springs, has contributed since ancient times to the fortune of Rapolano and has strongly influenced not only the architecture and the landscape, but also the economy, the social structure, the history and the art.

This stone is therefore an essential component of Rapolano buildings, applied in urban furniture, flooring, vertical cladding, furnishing and objects; for many years Rapolano was also home to an important school of stonecutters. The occasional exploitation of the quarries dates back to the Etruscan-Roman period: think of the tumulus of Molinello, founded on a circular planter travertine bench in the 7th century BC, and the necropolis of Poggio Pinci, from the 5th century BC.

At the end of the 16th century, the first documents attesting the procurement of construction materials for some important factories, such as the church of Santa Maria in Provenzano in Siena, San Biagio in Montepulciano and the Duomo di Pienza date back to.

Along the road that goes from the town of Serre up to Poggio Pinci, as well as enjoying a surprising landscape composed of deep excavations rather striking and beautiful views of the Crete Senesi, along the way, the small Romanesque church of Sant ' Andreino alle Cave, hidden between cypress and olive trees, also completely made of local travertine.
STAY

NEARBY
DINING & ENTERTAINMENT

NEARBY