> Home > Where to stay > Agritourism
SCANNANO
Rapolano Terme
AGRITOURISM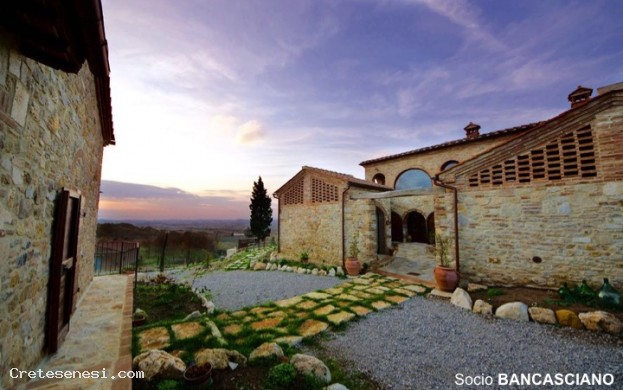 SERVICES
ACCESSIBILITA PORTATORI HANDICAP
ACCETTAZIONE ANIMALI DOMESTICI
CORSI DI CUCINA O ARTIGIANATO LOCALE
DEGUSTAZIONE PRODOTTI AZIENDALI
GIOCHI PER BAMBINI
PISCINA SCOPERTA
TRASPORTO CLIENTI ALLA STAZIONE
SOMMINISTRAZIONE ALIMENTI
TREKKING
RISTORANTE
COLAZIONE IN CAMERA
ACCESSO A INTERNET
ARIA CONDIZIONATA
DISPONIBILITĄ BICI E BYKE
TV SATELLITARE
BABY SITTING
RISCALDAMENTO INVERNALE
SUPPORTO PER CONGRESSI
COMMERCIALIZZAZIONE PRODOTTI TIPICI
FRIGOBAR
ASCIUGA CAPELLI
SALA RITROVO E/O TV
PARCO O GIARDINO
SAUNA
SCUOLA DI CUCINA
MASSAGGI
SOMMINISTRAZIONE BEVANDE O MINIBAR
PARCHEGGIO RISERVATO
VASCA IDROMASSAGGIO
SOLARIUM
COLLEGAMENTO INTERNET WIFI
STRUCTURE DESCRIPTION

Among vineyards, olive groves and woods, in a cozy barn restored respecting the material and the peasant culture, without giving up modern comforts, you can taste the old Tuscan recipes and enjoy the spa's relaxation center, the farm produces olive oil and wine.

The company offers 5 rooms furnished in style poor and Colari theme, some great family.
The Ristortante offers typical Tuscan menu made of simple dishes handed down from generations with a lounge that can accommodate up to 30 people and an outdoor terrace with a beautiful view, for ceremonies and events.

The zonma relaxation offers turkish bath, emotional shower, Jacuzzi, herbal tea, massage oil-based and natural products bionaturale and an outdoor swimming pool with views of the Crete Senesi.

The petting zoo with mailini, goats, a donkey, horses, ponies, pond with ducks is the ideal environment to enable children and not only real contact with nature, in the hotel it is also a small farming museum , a collection of old tools used in rural work.
ARCHITECTURE, ART

NEARBY
DINING & ENTERTAINMENT

NEARBY