> Home > What to visit > Gardens and Landscapes
Terrazza sulla Valdarbia
Asciano
GARDENS AND LANDSCAPES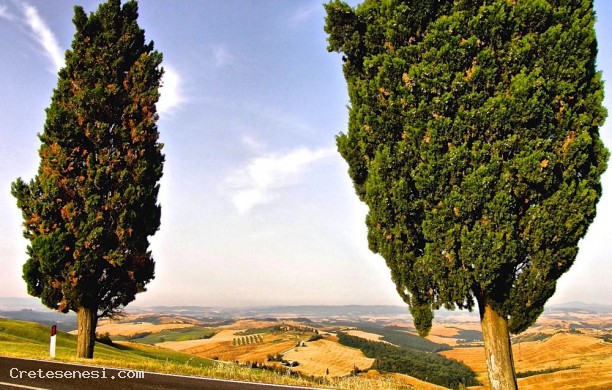 PHONE NUMBERS AND TIMES

Terrazza sulla Valdarbia


Business card (vCard)
Small pitch between two large cypress trees at the edge of Ancient Loreto, in the stretch from the junction of Mucigliani to that of San Martino in Grania.
The space is sufficient for the parking of 3-4 cars and is used as a point of departure and arrival for photographic excursions in the surrounding area. From here, in fact, leave the game drive 1 and 2.

The pitch is also a natural terrace cul gaze out towards the Valdarbia, to the metalliferous hills of Maremma.

Depending on the season, the landscape changes greatly in its natural coliri, paaasando from gray winter of plowed fields, the deep green of the spring to go to the yellow gold of the harvest mature or stubble after harvest.

For lovers of shooting against the light, from here you can take pictures of beautiful sunsets in all seasons.
STAY

NEARBY
DINING & ENTERTAINMENT

NEARBY